Lifting the care burden – A 'whole of community' approach to essential care.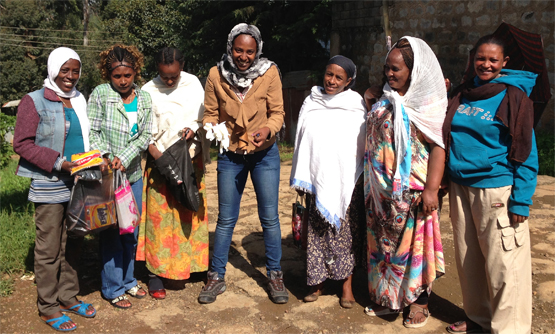 The Home Based Care and HIV Prevention Program aims to improve the wellbeing of people living with HIV/AIDS and other critically-ill people through the provision of home-based care services.
A central part of this project is training volunteer members of the community to provide care to patients while at the same teaching their families and/or neighbours how to care for HIV positive patients without becoming infected.
A Day in the life of Sister Abeba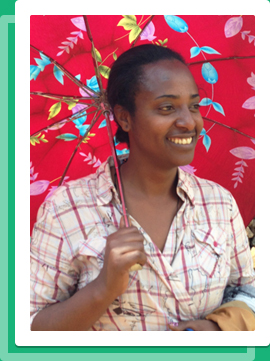 Sister Abeba is a well-known personality in Gulele – the sub city in the northern part of Addis Ababa where Hope for Children runs its Home Based Care and HIV/AIDS prevention program. 
Every day as she hikes the steep hills to visit her patients. Shopkeepers, fruit and vegetable sellers, religious leaders and others poke their heads out and say "Selamnesh Sister Abebe" – a friendly Ethiopian greeting for someone well respected in the community.
From dawn to dusk one day, we followed Sister Abeba during her daily home-to-home visits.
6am Sister Abeba wakes naturally every day and has a hearty breakfast of omelette and vegetables with her husband and 16 year old son. She leaves the house at seven and takes the bus to the Hope for Children office. During the bus ride she closes her eyes and prays.
"In these rare 45 minutes of quiet, I ask God to support me for the day. It's hard work and I never know what to expect, so this gives me the chance to pray and ask for His guidance", she says.
8am At the Hope for Children office, Sister Abeba writes up her previous day's reports before briefing a team of 10 caregivers on a planned focus group discussion. Sister Abeba also undertakes monthly performance reviews for each caregiver and revises her 12-month Action Plan ahead of an upcoming strategic review meeting.
11am Sister Abeba and two caregivers walk 45 minutes up a steep hill in Gulele to reach their first patient. She is a woman who is HIV positive and is now bedridden. They wash her body, cut her nails and do her hair. Sister Abeba is a motivating force. She tells her patient:
"It's possible to live with HIV/AIDS! You must take your medicine on schedule, and before you know it, you won't be bedridden. You have your whole future to think about!"
Before leaving, Sister Abeba speaks to the neighbours and community members. In a conversation over a traditional coffee ceremony, she tells them that there is no need for stigma and discrimination; "they are just like you and me", she says. She asks the neighbours to open the door of the patient each morning, say good morning, and ask if they need anything. The neighbours feel good about learning about HIV prevention and agree to help out.
12pm The team walk 20 minutes to the next patient. The family here have been working with Sister Abeba's team for a few months, and understand about prevention and care for HIV/AIDS patients. She is happy to see the progress of how the family is taking care of their child, and talks to them about staying positive.
The team stop briefly for a traditional lunch of enjera and a hot cup of coffee. It's thirsty work …
2pm Sister Abeba arrives at the local government office for a scheduled meeting with the officials. She asks them if they can support three patients who are capable of working. Following this, she meets with NGOs in the area that are providing vocational training and work opportunities for women.
She asks them if they can accept people once their health status has improved. They agree, and are happy to provide places for women living with HIV/AIDS. Sister Abeba is happy with the outcome and leaves their offices with renewed energy.
4pm Sister Abeba walks 20 minutes to visit a family with an HIV positive child. After learning of her medical situation, the school wouldn't allow the child to go to school and she was forced to drop out. Following the death of her mother from HIV related illnesses, the young girl became bedridden while her father works outside all day.
Sister Abeba referred this girl to Hope for Children's Sponsorship program. An Australian sponsor will support her financially to get her on her feet, attend a new school, and to meet all her basic school and nutritional needs. Sister Abeba also decides to offer counselling to the father on parenting and support for children living with HIV/AIDS.
5pm It's another 35 minutes walk to her next patient's house and it's cold and rainy up on the mountain. Sister Abeba arrives and receives a very warm greeting from the family. The mother has twins, but she is bedridden.
After treating her, Sister Abeba and the caregiver talk to her about the importance of getting her children into school next year. "We must get them both into school", she says. Still in pain, the mother agrees and asks Sister Abeba to help her with this process as the application period is closing soon.

7pm Arriving home, Sister Abeba has a bite to eat before her husband calls her and tells her that there are some patients waiting for her. The family go out and visit two people. They are Sister Abeba's neighbours and if she doesn't care for them, she says, she wouldn't be practicing what she preaches!
Ten years ago, 63-year-old Askale was diagnosed with HIV. When her husband passed away not long afterwards, Askale's youngest daughter, Asti, became her primary caregiver, tending to her 24 hours-a-day when Askale became too weak to get out of bed. 
Ethiopia is one of the countries most affected by HIV/Aids and stigma and discrimination around the disease is still common in Ethiopia's slum areas. Neighbours are often unwilling to help those suffering, for fear of contracting the disease themselves. In most cases, the care burden falls on children.
Every day, Sister Abeba and her team of community volunteers visit Askale to help her wash, prepare meals, provide medical care, company and emotional support for both her and daughter. This support means Asti can continue to go to school in the mornings; she is able to focus on her studies and develop important friendships.

Hope for Children currently provides direct support to 40 critically ill parents and guardians in the communities we work with in Addis Ababa. The Home Based Care Program also trains volunteers to equip families and community members with skills to better care for sick people, including people living with HIV/AIDS.